How can online marketers handle the new challenges with the help of one KPI – Customer Lifetime Value?
Marketers are facing a new era in online retail, combining both technology and customer-centricity. It might not be a new thing for most of you and yet a survey shows that most companies are in "digital denial", not accepting that it is tools and technologies now to help marketers acquire and retain their customers. Important as it is, one-to-one personalization is a challenge as well, which Chloë Thomas indicates in her recent book.
Why that matters in eCommerce?
Customers are more demanding than ever. eCommerce is more competitive than ever. Marketing tools, channels and data flows are more overwhelming than ever.
Online retail marketers today need to be present at the right time with the right message to the right prospect.
So how can we address that?
Let's try an ACKNOWLEDGE – LEARN – ACT – MEASURE approach here.

Here are a few statements that you as a marketer should live with:
Attracting new customers can cost 5x times as much as keeping an existing one. (Lee Resources)
Increasing customer retention rates by just 5% increases profits by 25% to 95%. (Bain & Co.)
Repeat customers spend 67% more than a new customer. (Bain & Co.)
20% of your customers generate 80% of the revenue. (Pareto's principle)
For that matter, it is very important that you focus very much on customer retention as to profit from your existing buyers and grow your business.
There is one KPI that appears to be quite handy when dealing with that – Customer Lifetime Value.
Why is CLV important?
Customer Lifetime Value is a prediction of the net profit of your entire future relationship with a customer. It can support your business and marketing results for a few reasons:
It is the one of the best optimization metric, because based on CLV you can allocate your efforts towards the right channels and audiences as well as to adjust your marketing expenses and profit from the most valuable customers. Thus, resulting in better ROI.
CLV is a holistic metric. It compiles data from different teams and the insights then spread throughout the whole organization – marketing, sales, CS, product development.
It enables the business owners and marketers to focus on their most profitable customers and do it one-to-one. In that way companies become truly customer-centric.
CLV is applicable across industries.

How to estimate CLV?
Start by using a simple formula to get a snapshot figure that is great for gathering an initial understanding of your customer lifetime value. Then compare it to more complicated estimations that integrate more business factors into the calculation.
For online stores that have not measured CLV yet, it is a good idea to start with this formula:
CLV = CV x T = AOV x F x T
Average Order Value (AOV) = Total Revenue / Total Number of Orders
Purchase Frequency (F) per customer per Year = Total Orders per Customer / Unique Customers
Both average order value and purchase frequency give you the customer value of your average customer in the measured period of time – the Customer Value (CV).
Customer Lifetime (T) = time (years) before a customer churns. This is usually a period of two to three standard deviations of the average time between purchases. It could result in something in the lines of 1 – 4 years.
Here is a free CLV calculator in spread sheets for you to try those estimations right away.
There are a few more simple formula suggestions out there:
Sweet Tooth , CLV = AOV x APY (average purchases per year)*profit margin
APY = Total Number of Purchases / Total Number of Customers
HubSpot, CLV = (Average Order Value) x (Number of Repeat Sales) x (Average Retention Time)
Josh Breinlinger, CLV = (Average Monthly Revenue per Customer * Gross Margin per Customer) / Monthly Churn Rate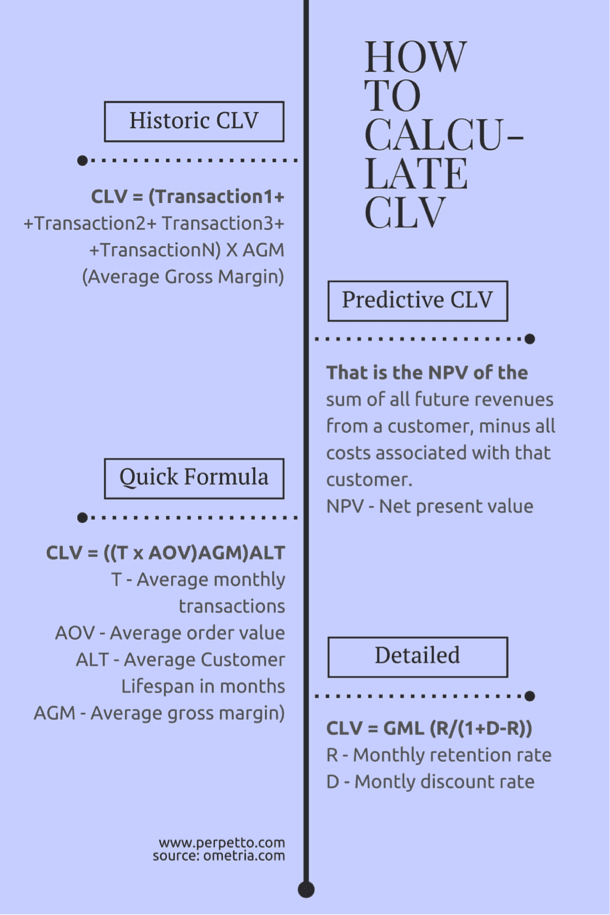 There are also free online tools to help you:
It is important that with calculating your CLV you should gather information from all sources and teams and integrate it into one common understanding of where your business stands and project the future growth. Then spread back the insights and company goals throughout the organization.

After having the numbers, there is only one thing left to be done – to optimize the CLV drivers. And here are the basic steps to do so:
Segment your clients, based on behavior and by customer value.
By segmenting your customers not only by demographic, but also by products purchases, buying behavior, acquisition and retention channels, you can get more clear idea of which customers actually drive your business and bring profit.
Knowing that, you can easily adjust your marketing efforts (tools, channels, communication, product mix) and expenses towards those customers that are (literally) most valuable to you.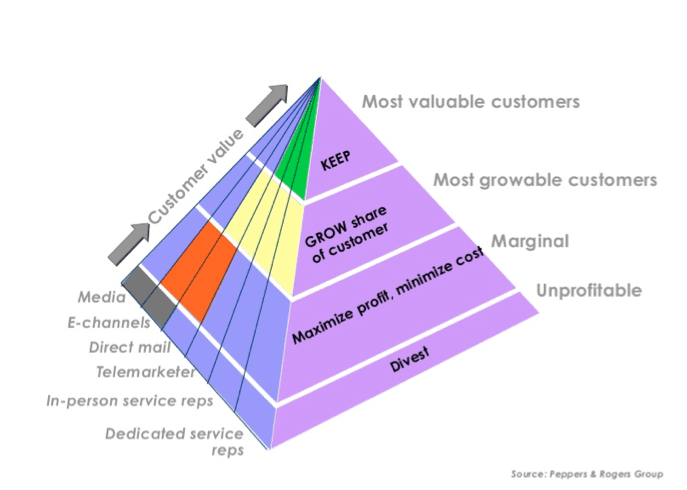 You can take a look at smart segmentation principles here, presented by Vladimir Dimitroff – experienced management consultant and senior executive.

Automate your marketing activities toward the most profitable customers
Greg Head (CMO at Infusionsoft) says that companies should shift their money to the people and not to media anymore.
Try out to customize your communication with your best performing customers. Integrate on-site pop-ups and mobile push notifications that are triggered by different customer actions:
When a customer tries to leave your homepage just a few seconds after landing on it.
When a product is added to a wish-list.
When a product is added to a cart but no purchase event occurs.
When a customer considers buying a complementary product. Why don't you come up with a 10% pop-up right at this moment?
Include automatic transactional emails in your retention and activation strategy:
When a customer leaves a product in the shopping cart, you can send him one recovery email with a reminder of the intent to buy. Or, you can schedule a sequence of emails: 1/ reminder, 2/ small discount, 3/ bigger, but time-limited discount.
Inform the customer when a product that was added in the wish-list but run out of stock is available again.
Offer personalized sets of products, based on purchase history and browsing behavior. For example, you can plan an email campaign for your top 35% spenders that haven't purchased anything for 6 months now and send them an email with a few products that match their taste and maybe offer a discount.
Personalize your website interaction throughout the whole customer journey
Try out customized product listing. In this way every customer sees products that are only relevant to him.
Include similar product suggestion widget. It is good for it to be available at home page, category page, and product and cart pages.
Try cross-selling and also add complementary product suggestions. It is very important that they are relevant both to the customer needs and also to the buying history. Display only matching sizes, brands and colors.
You can stress on the best performing items (the most viewed or the most purchased ones). It could work very well for you if they are displayed at the home page as an inspiration for the customer to keep on browsing.
Have you also considered offering different bundles of products? You could do that at checkout for example and up-sell with a nice package of items on a discount prize. "You are to buy a duvet cover. Do you want to make a nice pair and include this pillow case with 10% off in your cart?"
Include loyalty programs and different subscription models
These tools depend very much on your product category and customer needs. Here are a few loyalty program best practices of Lowe's, Nordstrom, Bebe, Gilt and more. Birchbox is another great example of an engaging and profitable subscription model.
What is the overall expected outcome?
All of the above listed actions result in uplift in your business KPIs – retention rates, AOV, repeat purchases, recurring revenue etc. They all influence the Customer Lifetime Value (CLV) rates too.
The higher, the better!

It is very important that you also track how CLV is performing and overview any of its drivers.
Here are a few resources to help you set up CLV tracking in Google Analytics:
"Find more growth through identifying and building the business around the valuable customers.",
–Peter Fader
Customer Lifetime Value (CLV) empowers online retailers and marketers to build their business strategy and allocate their marketing expenses and organizational efforts in a way to benefit the most valuable customers — those that buy more; purchase more often and tend to be loyal to the brand.
Unfortunately, only 5% of online businesses actually measure and use CLV.
Let's spread the word!

Smart Insights