Disscussing the advantages and pitfalls out outsourcing your lead gen
Do we outsource or keep in-house? That is the question. Let me specify in advance that by outsourcing lead generation I mean transferring the whole process to an outside supplier. You set goals and in turn, you get leads. In this chapter, I shall not speak about any intermediate steps such as pay per click campaigns, landing generation, or outgoing calls without clear results. After all, they have no guarantee that you will reap any potential customers.
Actually, the decision of whether to outsource searching and attracting potential customers is not a matter of cost. Total expenses per employee are significantly higher for a company than just salaries, as this includes taxes, office space, a workstation, IT, holidays, sick-leaves, etc. As a result, the price of outsourcing is comparable to the cost of keeping your work in-house.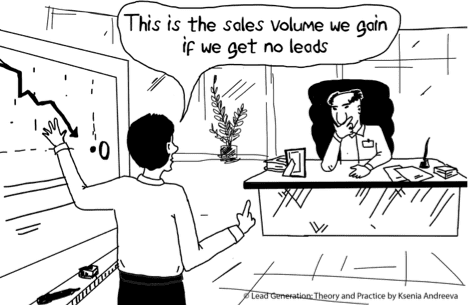 For many businesses, establishing the lead generation process within a company is economically sound. A definite advantage of this strategy is that expertise will be accumulated by your team. Company management also has full control over the situation. You can monitor and adjust employees' workloads in real-time. In addition, your own people will have a deeper understanding of the products you sell than any outside supplier.
Drawbacks of establishing a lead generation process within an enterprise are as follows. The company's management bears the risk of inaction or ineffectiveness of their employees. The employees may behave like this for a variety of reasons; an irrelevant marketing tool, problems with marketing pieces, an inaccurate target audience, low-skills, or banal laziness. Human factors add risks – an employee has a holiday or may retire – and the search for potential customers comes to a grinding halt.
The outsourcing of lead generation, above all, saves time and effort when organizing a staff's workload and its quality control. The implementation of new processes requires an expenditure of resources which may not always be available, and upon outsourcing this task, a company can focus on closing sales and will not be distracted by the added time and energy spent finding new potential customers and nurturing them.
However, there are pitfalls. First, the staff of an outsourcing agency has less institutional knowledge about your product line than your team does. Over time they will accumulate the necessary experience; however, this happens external of your company. Second, an outsourcing agency is likely to specialize in one method of lead generation such as online advertising or telemarketing. Therefore, your need to analyze results of one activity in comparison to another may not be realized. Third, you cannot monitor every employee working on a project as these employees are not your own. When considering whether to outsource such a workload or keep it in-house, you should evaluate the following pro and con arguments:
Model

Pros

Cons

Outsourcing

• saves time and effort on employee management and control;

• no need to create a new business unit with its own processes;

• no (or less) human dependency;

• pay per result;

• no overhead spent on office space and workstations;

• an increased focus on closing sales.

• outsourcing agency's employees have less knowledge about your product than your experts;

• you cannot monitor every employee;

• inability to accumulate expertise on lead generation techniques;

• the risk that your prospects may sooner or later be used for other projects.

Hiring In-House

• an accumulation of lead generation expertise and a thorough knowledge of offered products and services in comparison to an outside supplier;

• full control over a situation;

• deeper analysis of lead generation tactics and flexibility in changing them;

• ability to track and correct team's work at any time.

• you are responsible for any ineffective work of your employees;

• human factor risks (an employee may retire, or require sick days);

• additional time and effort are required from company's marketing and sales management;

• need to control and motivate.
Statistics speak for themselves
According to Global Benchmark Report on Lead Generation Strategy and Tactics for 2015-16[1], outsourcing of lead generation is still not the most popular option – only 12% of the respondents have indicated that they use the services of outsourcing lead generation or telemarketing agency for outbound calls.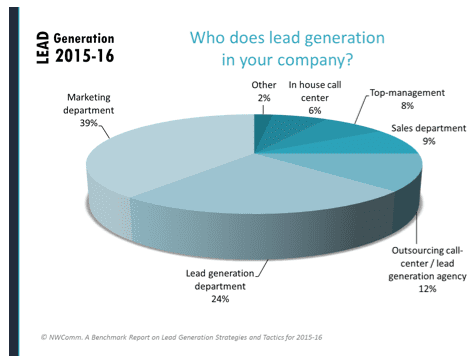 An outsourcing strategy for a Microsoft Partner
Let's see an example. A company specializing in enterprise content management systems needed to develop a lead generation business process. Its target audience included large and medium-sized companies in the retail, production, and insurance sectors. The target title of the decision maker was at CIO or CTO level. Lead generation was completed by making business appointments, as all the sales of the company were large enough and required personal negotiations with a prospective customer.
The CEO of the company said: "In fact, there were two alternatives – to hire a new employee or to outsource an agency. We decided to try both methods at once. Very soon we saw an ineffectiveness of the first approach (at least for us) and an effectiveness of the latter. During the first week, the outsourcing agency's work led eventually to signing new contracts. In summary, after a few months, most of the meetings arranged by the agency either resulted in contracts or the contracts are still being negotiated. We have the chance to end up making sales as well."
We used cold calls and further e-mailing to arrange business meetings. A call script focused on rapidly identifying the most interested customers
and asking them to arrange business meetings. Constant feedback from the company enabled the quality of leads to improve. Thus, some leads were classified as low potential, and
therefore, lead criteria were adjusted. For example, the sales conversion rate could have been higher if we had only accepted leads with clarified project time terms and an allotted budget. However, this approach would have reduced a total number of leads in a long-term perspective.
The company's management wanted no more than one or two meetings per week, as each meeting required a detailed follow-up, preparing a commercial proposal, and further negotiations. So 56 business meetings and conference calls were held. Within several months, four of them led to signed contracts with a total gross profit of $ 53,000. The intermediate conversion rate was 7% and the return on investment – 4.7. Is that a good result? I don't know. It can only be shown in comparison to other marketing activities and estimation of their ROI. In the future, the company
will continue negotiations with the remaining clients to move them forward to the purchase cycle and increase the number of closed sales.
| | |
| --- | --- |
| Parameter | Matchmaking for a Microsoft Partner |
| Suspects | ~6000 contacts |
| Prospects | ~110 contacts |
| Leads | 58 meetings and conference calls |
| Qualified leads | 56 meetings and conference calls |
| Number of sales | 4 |
| Conversion | 4/56 = 7% |
| Profit | $ 53,000 |
| Marketing expenses | $ 9,200 |
| ROI | (53,000 – 9,200)/9,200 = 4.7 |
How much does a lead cost when outsourced?
It is up to a company to understand the optimal cost per lead that they can afford to pay, and to find a subcontractor able to provide qualified leads for the best price. However, 26% of Lead Generation Benchmark Report respondents surveyed say that they do not know what the maximum cost is they are willing to pay for a lead.
The cost of a lead is determined by the efforts that agencies spend on its detection. Therefore, the first stage of collaboration is a test project, which serves to discover how many qualified leads occur in an average sample of the target audience. Then, upon justification of the lead's cost, the pay per result work can begin. Some agencies also receive awards when leads turn into sales, such as a percentage from contract/profit, or a fixed amount.
As a result, the cost of a lead is influenced by different things. Such influences are the cost of specialists per hour, direct expenses for a campaign (like clicks or calls), and marketing materials related to a project. In addition, there are also external factors that depend on a product, including the product's characteristics and its price compared to competitors, the size of a target audience, the market situation, and the company's brand. As a result, the cost of a lead varies from a few pennies to thousands of dollars.
For example, the price for a person that subscribes to a business trainer's newsletter may start at as low as several cents. A lead for a large scale ERP project may cost as high as thousands of dollars. The high price of a lead is justified if these leads bring big sales. If it were possible to predict a lead with a 100% conversion rate to a sale, many companies would be eager to pay even more for it.
---

Smart Insights