In-app purchasing functionality and new 'web view' feature transforms Messenger into a powerful tool for making mobile sales.
Importance:  (For ecommerce businesses)
Reccomended source: Facebook Developers Blog
Yesterday Facebook introduced changes to its Facebook Messenger app, the most important of which for marketers is the introduction of a 'buy' button which will let users buy products via bots that exist within Messenger. There will be no need for the customer to leave the Messenger APP, the bot will be able the handle the whole transaction without having to re-direct to external pages.
To see how it'll work, just take a quick look at the short clip below:
Users can give Messenger their card details so it can handle payments for them (something many have already done for sending money to friends via the app), this reduces friction and saves having to fill in fiddly forms on mobile devices. Businesses will then have to use stripe or PayPal to accept these payments.
Brands will also now be able to add links to their Facebook ads which direct people to their messenger bots to facilitate sales. This is a really interesting development because not only is it an integration of the two platforms, which until have been kept relatively separate (from an advertiser's viewpoint) but it is also a way for Facebook to monetize Messenger.
Web view: A new way to showcase products within Messenger
The new ability for bots to complete purchases for customers entirely within the Messenger app obviously is a great opportunity for brands to start making more mobile sales on the platform. But users inevitably want to get a good feel for the product they're purchasing before they buy. Facebook has thus also introduced a new Messenger feature it's snappily named 'enhanced Messenger mobile web view experience'. We'll go ahead and christen it web view for short.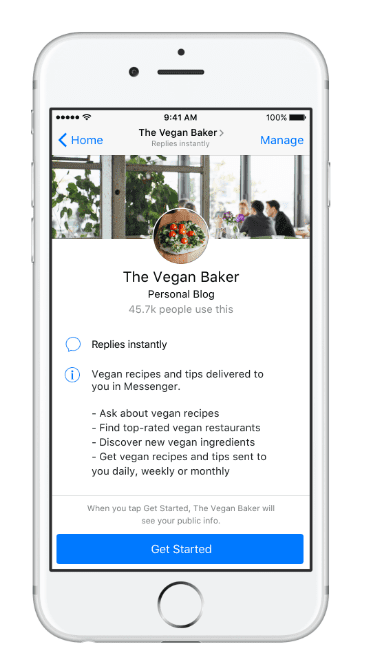 These are essentially mobile optimised in-app web pages which brands can personalise. But crucially they are hosted entirely within the Messenger platform, so the process is totally seamless for users. Businesses can use these pages to display their products, so users can see what's on offer and compare options before making a purchase. Letting users do this within Messenger avoids the issue of long mobile page load times and should help brands to boost revenue from mobile users when combined with the new in-app purchasing bots.
Facebook has also announced a new 'message bubbles' feature for the new Messenger v1.2, which again is interesting for brands. It means users can share individual messages with friends extremely easily. So say you message a bot asking for recommendations for new handbags, and it comes up with a few handbags it think's you'll like. But you see one you're sure your friend Cheryl would love, you can really easily share the message from the bot so if Cheryl likes the bag as much as you thought she would she can see the message and complete the purchase in-app with no friction. A great tool for boosting sales via social if there ever was one.

Smart Insights