LinkedIn is not as far ahead of the rest as you might think
HubSpot has launched their yearly State of Inbound 2016 report, providing us with some great insights into the latest trends and growth of inbound marketing.
This year their report is looking to showcase not just the current state of – but also the future of – Inbound Marketing.
One of the charts that caught my eye is the one below. It can be found on page 115 of the report if you're interested. It highlights the preferred channels of communication marketers and business owners like to use for both personal and professional purposes.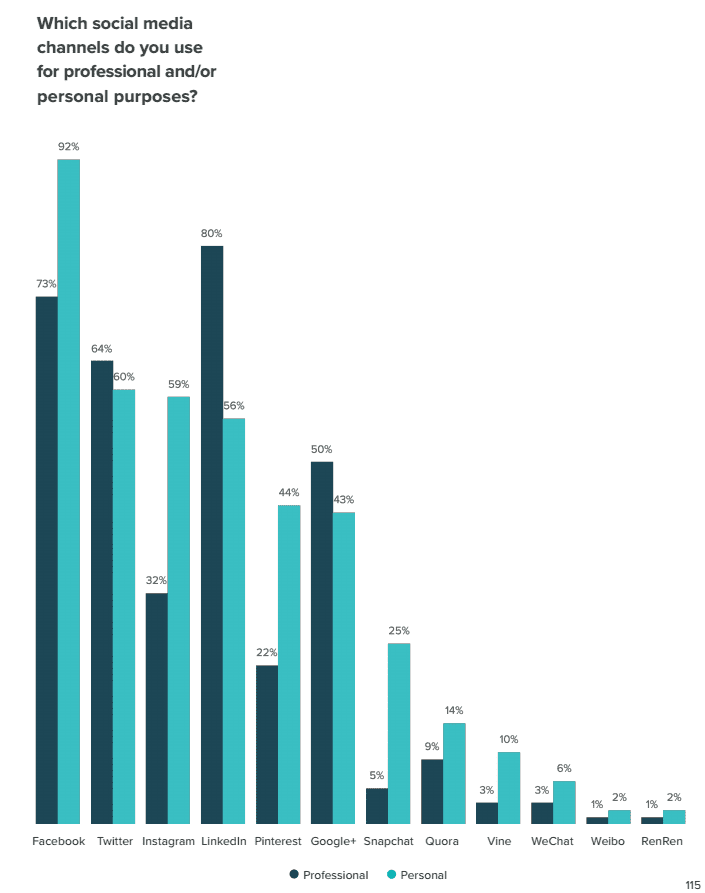 It is somewhat unsurprising to see LinkedIn as the preferred choice of professional communications. After all, it is a social network intended to help you build and engage with your professional network. Interestingly it appears a lot of us are having personal conversations across it too. Are we trying to disguise our lack of work with the LinkedIn badge? I think so…
In another unsurprising discovery, Facebook is by far the preferred channel of discussion by the majority of us and is used for 92% of personal communications. It also comes in at second for professional discussions at 73%. I think we are starting to see the line between social networking and professional networking is blurring.
Emerging social networks such as Instagram, Snapchat and Vine are still mostly seen as a personal channel, which is hardly surprising given the younger demographic using these.
The biggest surprise in this data is Twitter. It's more often used for professional purposes rather than personal, which came as somewhat of a shock to me.
Do any of these results come as a surprise for you?

Smart Insights