Chart of the Day: Top 20 Instagram Mobile App Advertisers in the USA
This week saw Instagram release a bunch of new features to their increasingly popular Instagram Stories. They announced what they called 'the biggest update to Stories since launch in August'. The app now allows you to tag your friends and integrates Boomerang, so you can add the 'wacky' looping videos into your stories.
Notice how the Disney account has tagged the Mickey Mouse and Good Morning America accounts – Oh and Happy 88th Birthday Mickey.
A unique feature released just for verified users (the ones with the blue tick) is the ability to add links to websites. This has always been a downside for marketers and influencers using the platform to promote their brands. Before this update, you could only add one link to your profile unless you were willing to invest in advertising spots. This change is a real perk for brands and influencers who are looking to direct their fans to their website outside the app. This change could have real significance for brands who have invested time into building a vibrant audience already and could signal a rise in brands seeking Instagram as a core Social network in their digital marketing mix along side Facebook and Twitter.
At the same time at this update, Sensor Tower have released their Q3 report looking into the top Apps promoted on Instagram for Q3 2016. Interestingly the types of apps is a real mixed bag with Car sharing app Lyft betting big on Instagram moving up 14 places in 3 months to become the number 1 advertised app along side the shopping marketplace Mercari and video content app Fullscreen coming in third. Could this be a master stroke from these three brands who are competing against the biggest names of 2016, Lyft vs Uber, Mercari vs Facebook Marketplace and Fullscreen vs Netflix. As these three big brands are absent from the top 20 Instagram could be an untapped market and signal success.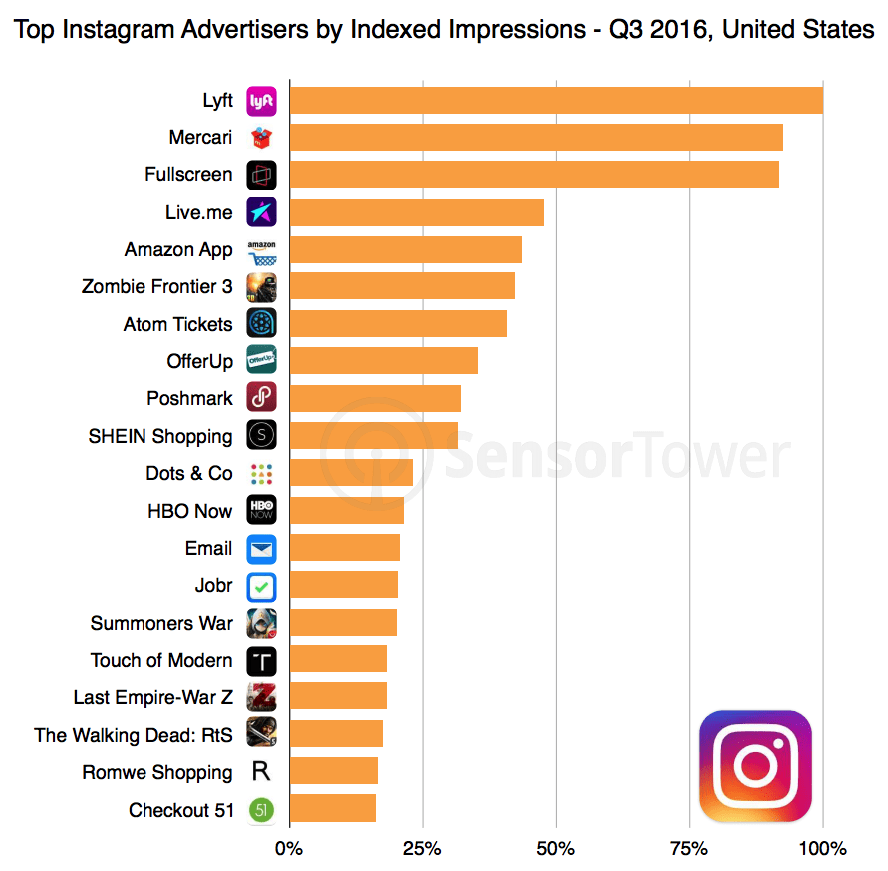 Smart Insights