Chart of the Day:  How often should businesses mail their subscribers? Research reveals the average number of monthly contacts.
These are classic 'tough questions' for email marketers which always raise a lot of debate. A question on our LinkedIn group about email reminder frequency for events had 20 comments.
Choosing the best frequency for sending email emails is challenging since we are looking to maximise response, but avoid 'over-mailing' which can lead to unacceptable levels of unsubscribes and an increase in inactives since our audience may feel they are being spammed. Even if they don't unsubscribe they will become "emotionally unsubscribed". Worse still, with overmailing, the business may have email delivery problems and messages aren't getting through to the inbox at all.
On the other hand, with 'under-mailing', opportunities to explain the proposition and promotions or to get the right product in front of the right subscriber and sales may be lost.
The DMA's National Email Client Report 2016 now known as the 'Marketer Email tracker' shows us that, generally, there is a trend over the past four years where companies are contacting individuals less on a monthly basis. Email Marketers look to be becoming more strategic in their approach, recognising that content needs to be relevant and are moving more towards behavioural and triggered based marketing, rather than programmatic timed campaigns.  It's very apparent that irrelevant, low quality emails can damage a brand and increase the number of unsubscribes.
The research from the DMA highlights that 17% of companies are still sending 4-5 emails a month to their contacts,  8% 6-8 times and 8% more than 8 times a month.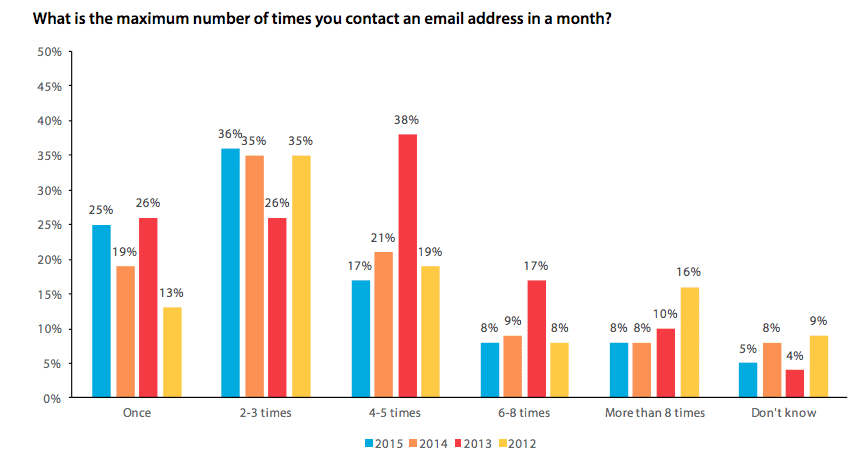 On the other hand, frequency can be too low and companies still need to be careful, as too little contact is not good for brand awareness. In 2015 25% of respondents were sending just one email per month to each contact.
Of course, this data is cross-sector, so we would expect some types of businesses such as retailers and publishers to email at least weekly, possibly daily. The research also doesn't show the effect of lifecycle emails like welcome emails, personalisation, and dynamic content which can help make content more relevant and contextual, but can increase email frequency for subscribers showing content.
Q. What is the best email frequency to maximise response?
Is there an optimal email frequency? Is it one email a quarter, week, month or day even? Is less more or or is more more?!
This is a basic question every digital marketer has to try to answer to maximise profit or response of email activity. I thought I'd share some some testing suggestions and case studies which could help you decide.
Average UK Email Frequency
Compare this to the original research when I wrote this post way back in 2010 when I wrote the conclusion for the UK DMA National client benchmark report. The question here was: What is the maximum number of times you contact an address on your list in one month?
Evaluating current email frequency and customer response behaviour
The first step to answer this question is to assess the impact of your email marketing frequency on customer activity and perceptions. If frequency  is too high, subscribers will tune out. The obvious thing to measure is aggregate open and click rates and most email broadcast systems are good at this. Mark Brownlow has a good roundup of research on customer perceptions of email frequency. In one study 73% said that frequency was the main reason for opting out. Ouch!
Another measure is to look at the average of number of emails you and your competitors send to subscribers per week, month or year.
But you need to go beyond this and use these measures that most systems can't measure readily, so you need to do some more analysis to identify:
Average frequency of email received and plot profile by frequency for different list members – to see the proportion of the list who are receiving too many or two few emails – see chart.
List activity – The % of your list that open, click and buy within a period, e.g. quarterly or annual.
Recency of response – what is the average for the last open, click or purchase – a good  tip is to store recency in your email database as a field for analysis. Alternatively score list members by activity and store this in the database also.
Break down list activity and recency measures by different type of list members – it may the frequency is working for some segments but not others.
Break down list activity by time on list – commonsense suggests, that the longer they are on your list, the less responsive your emails will become
Testing options to decide on the best email frequency
It's not an easy question to answer by gut instinct, so you have to test. So how do you decide on frequency? Here are some ideas and examples showing how you can approach frequency testing:
Defining a random control group to test frequency changes against. Here you continue with current mailing frequency for the control group and then vary the frequency for other groups and review changes in response and in particular revenue per 1000 subscribers. In one case a bank tried frequencies of 1,2,3,4 times per month and found the right frequency this way.
Example 1 Toptable
Sean Duffy reported how Toptable measured the long term impact of increased frequency by creating a control group with half the new customers that joined in a month held back from the second send.
After three months this control group was measured against those who had joined the site at the same time yet received the default setting of two emails a week. Open rates were 86% higher, unsubscribe rates 57% lower.
But the main figured that proved why sending too many emails leads to long term damage – those receiving only one email a week had made 14% more bookings than those receiving two emails over that three month test period!
Example 2 Net-a-porter
In this case Fashion e-retailer Net-a-Porter.com reduced the number of emails it sendt to customers from up to 10 per week to two according to Brand Republic.
It had been emailing some customers up to 10 times a week with information including generic updates, highlights from specific designers and details of new products.
After the experiment Net-a-Porter.com now sends each user two automatically generated emails a week that take into account their specific interests and preferences. Conversion rate has increased. Product update emails get a conversion rate of more than 10% and newsletter emails are opened by nearly half of recipients.
The report also shows the importance of getting email marketing frequency right. The company sends out around 300,000 emails a week. Email drives 32% of Net-a-Porter's sales and generates more than £1m in revenue each month.
If you have a single email newsletter as in the Toptable example, testing is more complex than these examples suggest since there are a range of different types of emails such as enewsletters, promotional offer emails and also individually tailored event-triggered emails. Different offers or creative to each segment will also be overlaid upon this.
Other options to solve the frequency dilemma include:
A. Reduce Email frequencies automatically for lower responding customers? Set a database field for activity or engagement level for each customer to help implement this. Amazon is good at implementing this and increases frequency through event-triggered emails sent in response to someone browsing, searching or buying – this is the smartest approach.
B. Change frequency for different segments. One frequency size is never going to fit all. So if you find that open or click response is lower for certain segments, then decrease the frequency when they are inactive.
C. Give customers a choice on frequency. You do this through their profile or "'communications preference centre". Give options to change content and frequency preferences through profile or survey (E-mail, DM)?
D. Increase Direct Mail or SM for customers with a lower Email response. This is sometimes called "right channeling". To test the value of this use a holdout group. This small group, perhaps 5% of your list or a specific segment who doesn't receive the catalogue (or email if you're testing this) at all.
E. Re-engagement campaigns.  Re-activation campaigns use content or discounts to encourage email subscribers to become active again.
I'd be interested to hear what you think where you've tested this, or what you feel is too high a frequency in a sector.

Smart Insights